Our Story
Growing up in a traditional household, I lacked the encouragement and moral support that was needed to help me develop my self-confidence. This contributed to why Optiplex exists today and how we aim to provide a highly personalised eyecare experience.

From when I was at a young age, I developed my confidence by aiming to reach the epitome of everything I did so that I could receive praise and validation from the people around me. A drop of confidence came with every achievement. Eventually, I believed that if I focused my energy on a goal, I would be able to achieve it.

In my teens, I became a nationally ranked tennis player by waking up at 5am every day to work on fitness and would attend tennis training from 6PM to 9PM after school from year 6 to 11. In my twenties, I trained in martial arts 4 hours a day, 7 days a week for 5 years to become an international taekwondo athlete representing Australia. All the while, juggling my studies to be one of the top students in my cohort.

After I graduated from optometry, I wanted to be the best clinician I could by continually studying the best methods to diagnose and treat different eye diseases. I wanted to thoroughly solve and educate my patients about their eye problems, no matter the complexity. I later learned to explore different fashion trends to help my patients achieve their desired persona through glasses.

Now in my thirties, I have focused that energy into our business so that Optiplex becomes the epitome of Optometry care in Australia. I aim to do this by giving back to the community what they had given me; confidence and support so that you can also reach your life goals. We achieve this by having a currated selection of frames with different personalities and support you with a very personalised approach to eye care.

Optiplex is a company on a mission to instil confidence and provide exceptional eye care to our community. Our team are highly trained to help you achieve your desired look with our frames, giving you the confidence you need in your environment. Whether it's professional like a lawyer, creative like an artist, elegant like a queen, express the inner minimalist, be the definition of trendy or rock a casual look, we've got you covered.

Our optometrists are all high achievers with the ambition to be the best in their field. We do weekly meetings to discuss clinical cases and go through the latest research to provide you with the highest level of care.

I have a dream that Optiplex Eyecare will give you the confidence and support you need to tackle your life goals. If you would like to visit me, please book an appointment. Until then, keep your eyes happy & healthy.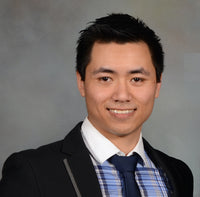 "Our mission is to help you feel confident in glasses and keep your eyes happy & healthy"

Dr. Steven Lam
Optometrist
Co-Founder and CEO
Book an Eye Test
Choosing a selection results in a full page refresh.
Press the space key then arrow keys to make a selection.