Children's Comprehensive Eye Tests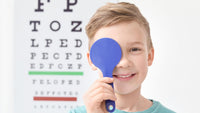 We see Babies to Teenagers
Regular eye tests for kids are crucial as they aid in the early detection of vision problems, which children may not always verbalize, allowing for timely intervention in cases of nearsightedness, farsightedness, or astigmatism, thus preventing potential learning difficulties and eye strain.

Other things we check for and treat include Amblyopia (lazy eye), strabismus (eye turns) and common childhood eye diseases.
Here's what to expect
General Component
Have a conversation to learn about your child's eyes.
Visual Acuity Test to access their vision and ability to see in the distance.
Refraction & Retinoscopy Test to check for myopia, hyperopia, astigmatism or presbyopia.
Eye Health Evaluation to check chech for eye conditions common in children.
Pupil and Eye Movement Assessments for make sure there is no unwanted eye turns
Behavioural Component
Binocular Vision Assessment to make sure your kids are using both eyes together to focus distance and near.
Assessment and treatment of lazy eye (amblyopia) and turned eye (strabismus) using spectacles or vision therapy.
Steropsis tests to make sure they can see 3D vision
Colour Vision Tests to make sure they can see red and green.
Measure the Pupillary Distance to make their glasses. (Aka PDs)
We Discuss all our Findings and educate your about your eyes.
Prescription and Treatment Plan to keep the eyes happy and healthy
Additional Tests When Required:
Dilated Fundus Exam
Intra-Ocular Pressure Tests
Cyclopentalate Retinoscopy
Visual Field Assessment
Optical Coherence Tomography Scans (OCT)
Retinal Photography
Children usually can't tell if they have blurry vision as most are born with it. The blurriness can be permeanent if it is not corrected before the age of 9. We recommend that kids get their eyes checked around the age of 3 to give us adequate time to correct any eye conditions needed.
Best practice for our community to get their eyes checked yearly as part of their general health care program.