Comprehensive Eye Examinations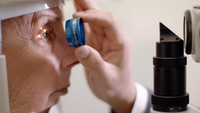 A comprehensive eye test conducted by an optometrist at Optiplex Eyecare is a thorough examination of your visual health and overall eye condition. This examination is designed to assess your vision, detect any potential eye disorders or diseases, and determine the need for corrective measures like eyeglasses or contact lenses. Through your eyes we can also detect changes caused from your systemic health like diabeties, hypertension or high cholesterol.
Book a Comprehensive Eye Test
Here's what you can expect:
Have a conversation to learn about your eyes.
Visual Acuity Test to access your vision and ability to see fine print.
Refraction Test to check if you have myopia, hyperopia, astigmatism or presbyopia.
Eye Health Evaluation to check for cataracts, macular degeneration and other eye conditions.
Assessment for Contact Lens suitability and wear type.
Intraocular Pressure Measurement to check for glaucoma.
Pupil and Eye Movement Assessments for neurological testing
Binocular Vision Assessment to check your ability in using both eyes together for near focus.
Measure your Pupillary Distance to make your glasses. (Aka PDs)
We Discuss all our Findings and educate your about your eyes.
Prescription and Treatment Plan to keep the eyes happy and healthy
Additional Tests When Required:
Dilated Fundus Exam
Colour Vision Testing
Visual Field Assessment
Optical Coherence Tomography Scans (OCT)
Retinal Photography
A comprehensive eye test at Optiplex Eyecare is designed to ensure the health and clarity of your vision, as well as the early detection of any eye diseases or disorders. It is recommended that individuals undergo such examinations regularly to maintain optimal eye health and overall well-being.
We recommend our community to get their eyes checked yearly as part of their general health care program.